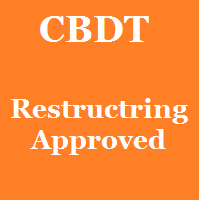 The Union Cabinet today approved the proposal of restructuring of income tax department by  creation of 20,751 additional posts  in various cadres that is 1349 additional posts in the IRS cadre and 19,402 additional posts in the non-IRS cadres. An additional expenditure of Rs 449.71 crore per annum is likely to be incurred on creation of additional posts and up gradation of some existing posts, Finance Minister P Chidambaram told reporters after the Cabinet meeting.
CBEC Restructuring Coming Soon !
Meanwhile, there is another proposal for a cadre restructuring of Central Board of Excise & Customs (CBEC). This will add 20,000 officers to its existing workforce of 66,808 officers, taking it to 86,808, and this may give additional revenue of about Rs 68,000 crore.
The CBEC's proposal may take a little longer as it is running behind CBDT proposal in terms of securing some key approvals. The proposal was recently approved by Chidambaram. It will now have to be cleared by the Department of Expenditure and then the Department of Personnel and finally the Cabinet.So, both the proposals would add to extra over Rs 93,000 crore a year to the government kitty. This means that each employee will add to Rs 2.28 crore a year to the government kitty on an average.
The additional revenue will be over and above the Budget Estimates of Rs 6,68,109 crore for direct taxes and Rs 5,65,002 crore for indirect taxes. However, the entire workforce may not be added within this financial year even if the proposals are cleared soon.The proposals were stuck for years and junior tax officers often threatened to go on strike for not getting promotion for years. As per government guidelines, cadre review should happen every five years, but the last cadre review of CBDT was in 2001-2002, while it happened a year later in CBEC.
After the last cadre restructuring of CBDT, direct tax collections saw a quantum jump from Rs 70,000 crore in 2001-02, to Rs 1,05,000 crore in 2003-04 and Rs 1,33,000 crore in 2004-05. CBEC too witnessed a jump in its collections from about Rs 1,22,000 crore in 2000-2001 to Rs 1,38,000 crore in 2002-03.Though a higher number of senior positions would be created at both the boards, the staff expansion is likely to be mostly horizontal in CBDT, while the growth may be primarily vertical is CBEC.
For instance, in CBEC 16 new posts have been proposed at the apex level and these officers would be called Principal Chief Commissioner. Similarly 38 additional posts are proposed in the Higher Administrative Group Plus category which will include Chief Commissioners.
[source PIB)